Creating Positive Change
United Way of Sumner County has been working to create positive change in our community since 1977 by bringing people and resources together. 
What We Do
We serve as the hub of a network that connects givers, advocates, and volunteers with local businesses, schools, government, and human service programs to make lives better and our community stronger. We identify and address current needs by funding more than 35 non-profit programs chosen for their expertise to specifically target local issues. Working together, we collaborate to develop long-term strategies that will eliminate the causes of the issues facing our residents and improve the quality of life in Sumner County for all of us.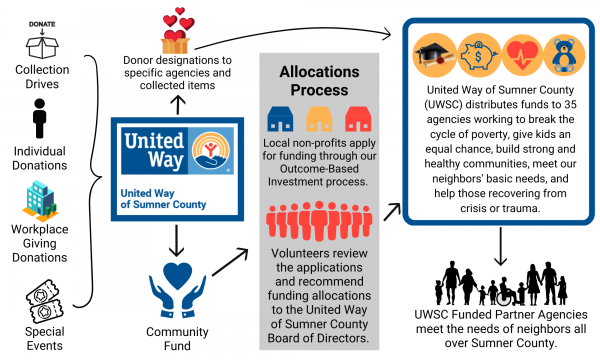 We are Connectors.  Because it takes a connected community.
We connect companies and individuals with the agencies meeting the most critical needs of our community.

We connect people in need, with resources during times of transition, crisis, or life's unexpected turns.

We connect agencies who work together to meet the overall needs of clients because we know that needs are not isolated.  One need often points to another.  Our partnerships ensure that people get access to help with a variety of resources they may not have known were available.
Our Impact Focus Areas
Providing programs that include early learning opportunities, youth mentoring programs, assistance in overcoming barriers to learning, and ESL instruction.
Assisting in establishing basic needs following emergencies and unexpected events, cultivating financial literacy, and helping families become self-sustaining.
Providing preventative care and critically needed services, helping seniors remain active and independent, and providing age-appropriate health resources.
Providing assistance in times of crisis or disaster, youth and family-focused counseling, and programs to prevent and recover from child abuse and domestic violence.
We connect our local partner agencies who specialize in these four areas to families confronting issues like financial instability, food insecurity, illiteracy, inaccessible healthcare, lack of affordable housing, abuse and neglect, affordable childcare, senior independence, and more, empowering every individual to achieve their full potential where it matters most – right here in Sumner County.

We're proud of the work we collectively do in Sumner County to make our community better!  Click the button to view our most recent Annual Report!

We give hope that better is possible.  It's possible when we all come together to Live United.
Join us.