In addition to partnering with more than 35 local non-profit agencies who specialize in specific needs, United Way of Sumner County provides several free programs and services to help families find the resources they need for education, financial stability, health, and to rebuild lives through crisis recovery. Connecting people in need with local resources is a critical part of our mission. Click the sections below to find out how each program/service can help your family or someone you know.
UWSC Programs and Services
What is 2-1-1?
2-1-1 is United Way's free and confidential referral service available 24/7 that helps people find the local resources they need, when they need them. One call to 2-1-1 connects you to someone who can help you navigate the maze of human services to get you the help you need. 2-1-1 offers information about food, housing, employment, childcare, transportation, health services, tax assistance, eldercare, legal assistance, domestic violence help, after school programs, and other crisis hotlines. 2-1-1's trained information and referral specialists can help you find resources for all of these needs and more. Simply dial 2-1-1 and stay on the line to speak with an information and referral specialist about your needs.
How do I connect?
Dial 2-1-1 on your phone to speak with a Community Resource Specialist. (Some cellular service providers prevent you from dialing 2-1-1 to make a call.  If you are having trouble reaching 2-1-1, you can also connect by dialing 615-279-1410 or 1-800-318-9335.)

Text your Zip Code to 898-211 to start a Text Chat.

Visit tn211.myresourcedirectory.com  to search by category of service/ need, county, or zip code. 
You can also choose visit 211.chat.org or "click here to chat" on tn211.myresourcedirectory.com to open a live chat dialogue.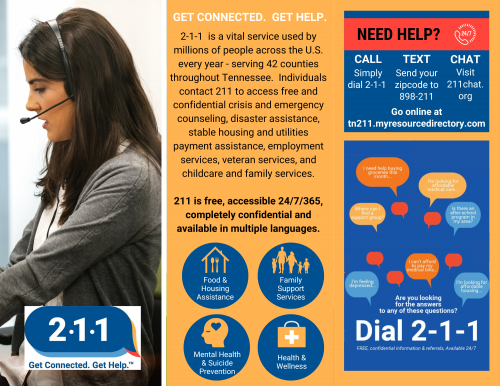 Add your organization to 2-1-1
If your organization focuses on providing a social service, you can join the 2-1-1 resource database. Qualifying organizations are 501(c)3 non-profits, government agencies, faith-based organizations, or other organizations that contribute social services. For complete qualifications and to add your organization to 2-1-1's database, click the button below.

What is the Benefit Kitchen?
The Benefit Kitchen is a free screener you can use to learn more about federal, state, and local public benefits for which you may be eligible in Tennessee. It helps residents learn their eligibility for benefits including TennCare, food stamps, utility assistance, tax credits, and more. The screening is free and we will never ask you for your name, address, or SSN.
How do I connect?
Text the word BENEFITS to 211-211 to start a Text Chat.

Wait a few seconds for the prompt and then answer the questions as they are asked.  It takes 5-10 minutes to answer the screening questions.

After you answer all the questions, you'll get a text message telling you any benefits for which you may qualify AND giving you the link to apply to receive those benefits.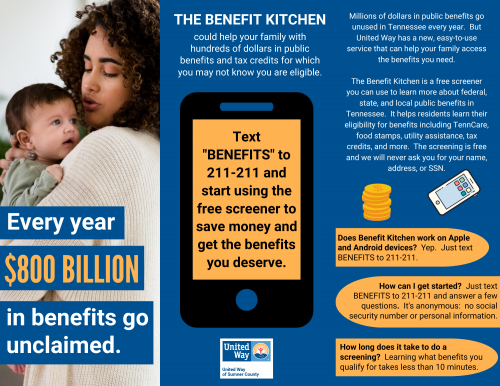 What is My Free Taxes?
MyFreeTaxes helps people file their taxes for free while getting the assistance they need. United Way provides MyFreeTaxes in partnership with the IRS's Volunteer Income Tax Assistance (VITA) program to help filers prepare their tax returns on their own or have their return prepared for them for free.
Since 2009:
● More than 1.3 million people have used MyFreeTaxes.
● MyFreeTaxes has helped individuals and households save $260 million in filing fees.
MyFreeTaxes helps people file their taxes for free while getting the assistance they need.
MyFreeTaxes is FREE for all returns.

MyFreeTaxes is available in English and Spanish.

Users can file federal and state returns for free.

Tax situations covered for free in MyFreeTaxes include:

W-2 income

Schedule C Self Employment

Limited interest and dividend income reported on a 1099-INT or 1099-DIV student

Education expenses, credits or student loan interest

Unemployment income

Claiming the standard deduction

Earned Income Tax Credit

Child tax credits

Child and dependent care expenses

MyFreeTaxes also provides a free return to self-employed filers including gig workers, who can report their income and expenses on a Schedule C form.

You can easily file your taxes using MyFreeTaxes.com from your mobile phone, tablet or computer. The platform guides you through the process to guarantee you get your maximum refund.

Most filers complete their taxes in under one hour and save an average of $200 in fees by using MyFreeTaxes instead of a paid tax preparer.

Filers who prefer more support can connect to virtual VITA programs to have their return prepared for them by an IRS-certified specialist.

The MyFreeTaxes filing software uses best-in-class standards to safeguard taxpayer information and guarantee tax returns are accurate and you receive your maximum refund.

Don't stress over the latest changes to tax laws! MyFreeTaxes software is always up to date.

MyFreeTaxes screens for credit and deduction eligibility, like the Earned Income Tax Credit and Child Tax Credit and can help filers claim missed stimulus payments.
How do I connect?
Regular operations begin in late January following the tax year.  (i.e. Regular operations of MyFreeTaxes will begin in late January 2023 for the 2022 tax year.)
Go to https://myfreetaxes.com/ for more information and to get started.
What is SingleCare?
United Way of Sumner County partners with SingleCare (formerly FamilyWize) to provide community members with access to affordable prescription medications, ensuring greater health and financial stability. The SingleCare prescription savings card finds the lowest prices and provides discounts on pharmaceuticals for friends, family, and co-workers— even if they're not a SingleCare member.
The SingleCare prescription savings card:
Always free to use by everyone with no signup fees, hidden fees, or red tape—just show it to the pharmacist.

No registration or eligibility requirements. Use it right away!

Save up to 80% on 10,000+ prescription medications.

Card provides typically half the cost of the retail price.

Saves an average of $37 per script and $243 per member per year for people who regularly fill prescriptions.

Accepted at 94% of the pharmacies nationwide including major pharmacy chains such as CVS, Walgreens, Walmart, Kroger, Albertsons, Safeway, Rite Aid, and Meijer.

Works whether you're insured or underinsured.  In fact, 80% of those who use the card are insured!

Unlimited uses.


 
How do I get a SingleCare card?
Public Benefits that Provide Help