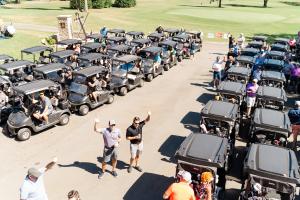 The 2022 Fall Classic Golf Scramble, held on September 26, 2022, at Bluegrass Yacht & Country Club, exceeded goals in almost every arena!  Thirty-five teams of 140 golfers registered to take part in the event to support United Way of Sumner County.  The tournament netted $29,471.41 which was $7,293 OVER goal!
Participants began arriving at 10:30am for registration and some time on the driving range which was sponsored by First Horizon Bank.  Lunch, sponsored by RE/MAX Choice Properties The Gaughan Team and the Grace Oliver Family, was served at 11am with hamburgers, hot dogs, fries, slaw, and dessert.  At noon, United Way of Sumner County (UWSC) Board Chair, Pat Conner, welcomed the group and introduced Eagle Sponsor, State Representative, Johnny Garrett, who shared a few words of appreciation for everyone's support of UWSC.  Pat then introduced special guest, Holly Thompson of WSMV, Channel 4 News who encouraged golfers and expressed her enthusiasm for UWSC. Finally, Club Pro, Tom Mantegna, went over a few rules of play for the tournament before releasing golfers for their shotgun start.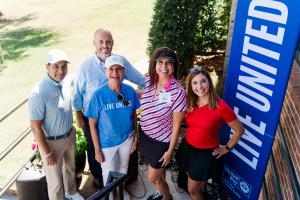 Pictured (l-r):  Tom Mantegna, State Rep
Johnny Garrett, Pat Conner, Holly
Thompson, and Erin Birch.
Golfers enjoyed picture perfect weather as play included a chance at a hole-in-one prize sponsored by Miracle Ford, a putting contest sponsored by Swan Surgical and Country Financial, and skills hole competitions for longest drive and closest to the pin, sponsored by Barnett Ironworks, Wood Financial Group, and Lawren Lassiter, Attorney at Law.  The Front 9 was sponsored by Servpro Industries.  Birdie Sponsors included Boger Construction, ITW StampTech Fasteners, and Sumner Bank & Trust.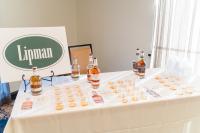 As the tournament concluded, golfers indulged in desserts provided by Publix at the 19th Hole sponsored by Clayton Fulks of Smile Construction and Lipman Brothers.  All spirits and an after-play bourbon tasting were provided exclusively by Lipman.
Erin Birch, CEO of UWSC, thanked participants as she began the Awards Ceremony which was sponsored by ITW Dynatec.  The winner of the Putting Contest was Joe Baca from the Publix West team.  The winner of Longest Drive for men was Kim Cunha from Servpro Team 2.  The winner of the Longest Drive for women was Kelly Coley from the PMI Middle Tennessee Team.  Mike Taylor from Chuck Conner's Team won Closest to the Pin for men and Juli Marr, also from the PMI Middle Tennessee team, won Closest to the Pin for women.  
Boger Construction won First Place/First Flight for the men's division with team members David Boger, Rick Barnett, Brandon Maricle, and Trey Tarpley.   Batten & Shaw won Second Place/ First Flight for the men's division with team members Randy Leath, Eddie Sherlin, Joe Golshauser, and Austin Lancaster.   The Publix West Team won First Place/Second Flight for the men's division with team members Brian Sampedro, Battle Poprawski, Joe Baca, and Steve Brown. Michael Morrison's Team won Second Place/Second Flight in the men's division with players Michael Morrison, Bob Driver, Peter Norman, and Steve Otto. The First Place Winner for the women's division was PMI Middle Tennessee with players Jean Montgomery, Juli Marr, Kelly Coley, and Rhonda Manous.  The Second Place winner for the women's division was Team Sure Shot Sweeties with players Linda Young, Betty Patton, Charisse Gamble, and Kathi Fox.  Congratulations to all the winners! 
Special thanks to the UWSC Golf Committee* who planned and organized the event, the 26 golf day volunteers who made the event possible, and all of our sponsors including hole sponsors Hugh Atkinson; Erin & Travis Birch; Pat & Chuck Conner; Norman & April Rubio; Brittle Brothers; Huntington Learning Center; Lori Guinan, Realtor; Mary Cay Koehn, DDS, MS; McMurray Fox & Associates; The Farmers Bank; Wilson Bank & Trust; and Volunteer State Bank.  Thank you also to Publix for their year-round support of all UWSC events and community drives.
Click here for our full Facebook photo album of event pictures and winners.
*2022 Fall Classic Golf Scramble Committee Members:  Travis Birch, Chuck Conner, Clayton Hannah, Rachel Lassiter, Jamie McMurry, and Jean Montgomery.