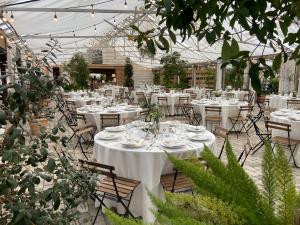 The last annual Gala for United Way of Sumner County (UWSC) was held in 2020 just days before the pandemic caused massive business closures and put a halt to special events all over the country.  With no 2021 Gala, we were more than excited to finally welcome guests back to our 2022 Gala in the Vineyard!  Apparently, we weren't the only ones happy to be gathering together!  In 2020, just over 200 people attended the event, while 245 guests and volunteers attended this year's sold-out event held on March 4, 2022, at the gorgeous Long Hollow Gardens & Vineyards.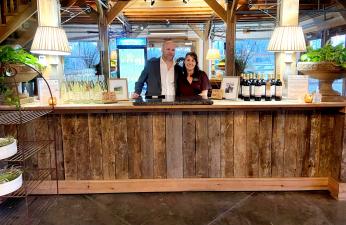 A crew of volunteers had arrived earlier in the day to beautifully set the tables and chairs with dinnerware and linens from Liberty Party Rental.  Guests began arriving at 6pm to enjoy appetizers, an open bar stocked by Lipman Brothers, a fun photo booth, and a wine tasting of local wines from Long Hollow Gardens including the award-winning Robert's Red.  Guests also began perusing 45 incredible items available in the silent auction with a wide variety of choices to suit every interest including art, jewelry, spa services, gourmet snacks, home décor, pet supplies, restaurant gift cards, golf packages, purses, holiday décor, health & beauty products, art classes, and basketball tickets.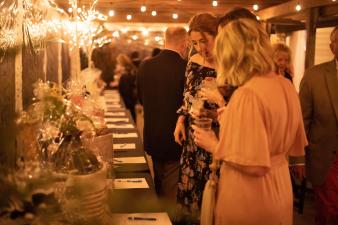 At 7pm, the dinner buffet opened featuring a delicious Tuscan-themed dinner by Kathy's Sugar & Spice.  Kicking off the program around 8pm, Pat Conner, UWSC Board Chair welcomed and thanked our guests and sponsors, introducing Gala in the Vineyard Venue Sponsor, Amy Scott to say a few words.  Stephen Bearden also spoke on behalf of Platinum Sponsor, TriStar Health.  UWSC CEO, Erin Birch, then shared a moving story of one of her first experiences as an employee of United Way when she met a mother who had showed up to volunteer for our annual Stuff the Bus Drive.  With tears in her eyes, the mother explained that the reason she wanted to volunteer was that her own kids had been past recipients of backpacks from the drive after she first became a single mom.  She spoke of her experience with several United Way agencies and partners who made sure she had food on the table and clothes for her kids.  They helped her find a job, gave her free legal advice, provided her with medical care, and made sure her kids had free counseling services to deal with the transition.  Her story served as the perfect example of how supporting United Way means supporting multiple agencies working together to meet the needs of our community.  Erin was followed by Gala Committee member, Kelley Crecelius, who talked about why she chooses to be a part of United Way.  She said it was her way of "tithing and giving back to my community."   She talked about how it can be hard to choose which agencies get your limited time and money.  "But, with United Way, I don't have to give to so many organizations because I can give to United Way and there's 33 different organizations under that one umbrella."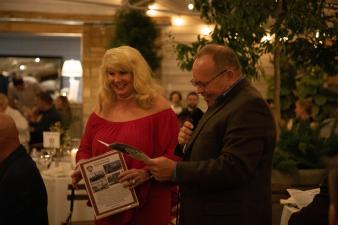 The most exciting part of the evening was when auctioneer, Ed Cope from Cope & Associates Realty and Auction, began our live auction.  Ten packages were available that included Blanton/Weller 12 Bourbon, Nashville Sounds tickets, a fully stocked bar cart, Nashville Soccer Club tickets, an Oak Ridge Boys autographed guitar, Tennessee Titans tickets, a Grand Prix package, Music City Bowl tickets, a House of Cards package, and a Scotty Cameron putter.  The bidding was lively and entertaining for all who participated or watched the good-natured back-and-forth competition.  By the end of the event, over $11,000 had been raised in the live auction (compared to over $4,000 in 2020) and almost $5,000 was raised in the silent auction!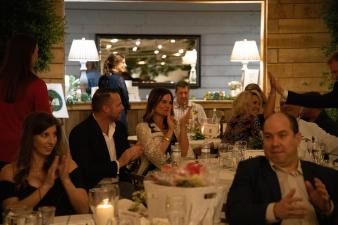 The event was a huge success!  We are beyond grateful to all of this year's sponsors:  Venue Sponsor, Long Hollow Gardens & Vineyards; Platinum Sponsors, Dollar General and Tri-Star Health; Gold Sponsors, Primrose School of Hendersonville and Sumner Regional Medical Center; Silver Sponsors, The Gaughan Team at RE/MAX Choice Properties and Wilson Bank & Trust; Bronze Sponsors, Elect Keith Bean Sheriff, Norman Rubio, and Forward Sumner; and Year-Round Sponsor, Publix.
This event would not have been possible without our amazing Gala Committee Members who put in countless hours helping our staff plan and organize this event:  Anna Cook, Kelley Crecelius, Susan Gaimari, Kendall Hall, Courtney Mosely, Amy Ramsey, Amy Ray, and Amy Scott.
Thank you so much to all who attended, donated, volunteered, or participated in this event in any way including Sheriff Sonny Weatherford and his deputies who provided Sober Ride to make sure everyone made it home safely!  We can't wait to see you next year!
Click here to view our 2022 Gala in the Vineyard Facebook photo album.