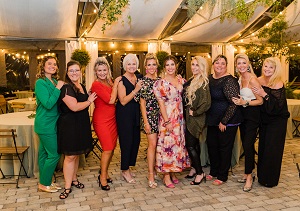 The 2023 Gala in the Vineyard presented by TriStar Hendersonville/TriStar Skyline was held on Friday, March 3, 2023, at Long Hollow Gardens & Vineyards.  Though there was some windy weather mid-day, the weather had calmed by evening and it turned out to be a beautiful night attended by about 190 guests and volunteers.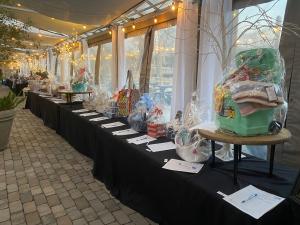 The evening began at 6pm with an open bar and appetizers, a fun photo booth, and a Silent Auction with more than 50 baskets of varying themes.  There was a little bit of everything including jewelry, kitchen products, spa products, wine baskets, pool and lake themed baskets, books, hiking baskets, art, a toolbox, handbags/totes, restaurant gift cards, and more including the winner of our Silent Auction Basket Contest: a basket of pet accessories that came with monthly baths, valued at $950, donated by The Barking Spot.  Relaxing piano music provided by Conner Broome, @the_broomestix, was complements of Entertainment Sponsor, Volunteer State Bank.
The delicious dinner buffet opened at 7pm with a menu of Tuscan chicken, red wine braised beef, mashed potatoes, sautéed green beans, and yeast rolls provided by Kathy's Sugar & Spice complements of Hospitality Sponsor, ITW Stamptech Fasteners.  Just before 8pm, Pat Conner, UWSC Board Chair, welcomed the crowd and introduced Michelle Groves, UWSC Development Manager, who thanked auction donors and table ticket hosts.  Michelle also acknowledged event sponsors including our four Focus Area Sponsors:  Education – Primrose School of Hendersonville, Health – Sumner Regional Medical Center, Financial Stability – Team Cook Cross Country Mortgage, and Rebuilding Lives – Dollar General before introducing representatives from Presenting Sponsor, TriStar Hendersonville and TriStar Skyline to say a few words to the group.  Nick Howald, COO of TriStar Skyline, and Justin Coury, CEO of TriStar Hendersonville, each spoke about the value of community and why their hospitals partner with United Way.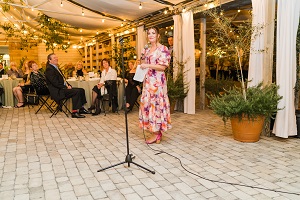 Next, UWSC CEO, Erin Birch, shared an email from a Sumner County resident who had called the office looking for help with her rent after her husband had died from Covid, leaving her as a single mom with two teenagers.  She said the person who answered the phone listened carefully and then asked questions to ensure she had all the resources and support possible and even offered some referrals for things she didn't even know she needed.  After the call, the woman connected with United Way agency, Gallatin CARES.  They walked her through her options and the ways they could help so that she could stay in her home with their Shelter Protection Program.  They even provided groceries for her family on the weeks she was extra light on funds.  UWSC had encouraged this mom to also talk to her son's school to let them know what was going on with her family.  Because she followed that advice, her son, who was struggling to adjust, was able to talk confidentially to a STARS counselor at his high school to help work through his struggles.  Wanting to send a thank you note to UWSC, the woman looked on the UWSC website to find an email address and ran across our "Get Help" page with information on the United Way Benefits Kitchen which is a text screener that helped her find out she was eligible for some public benefits she didn't know about.  She was grateful that United Way was there to help her family through a difficult time and hoped to one day be able to pay it forward.
Erin then introduced Amy Ramsey, who serves on the Gala Committee.  Amy invited guests to support United Way and be a part of making a difference in their community.  She was followed by Amy Scott, UWSC Board Member, Gala Committee Member, and co-owner of Long Hollow Gardens & Vineyards who gave a toast to the work UWSC does in the community.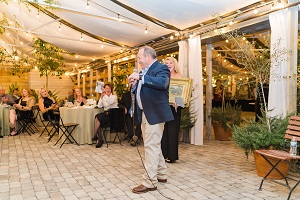 After a brief break to refresh drinks and make final bids on the Silent Auction before it closed, Eddie Cope of Cope & Associates Realty and Auction began the Live Auction.  Ray Render, District Deputy Director for US Representative, John Rose, and Tennessee State Representative, William Lamberth, added some fun to the event by helping encourage bidders in a friendly competition between each side of the room.  Live Auction items included a Weller Bourbon package, an All-Inclusive Luxury Picnic Experience for 8; a Predators Suite with dinner at Puckett's Grocery & Restaurant; a Joel Knapp Signed Painting; a Big Machine Music City Grand Prix package; a Nashville Sounds package with an overnight stay at a Germantown Condo; a Music City Bowl package, two Adrenaline Car rentals; and a Sports Fan package that included tickets for the Nashville Soccer Club, a foursome of golf at Bluegrass Yacht & Country Club, tickets to the Tennessee Titans, and some sports equipment and autographed memorabilia.
UWSC is grateful for the people who helped make this event possible including our photographer, Lyndsey Sayles; our bartenders, Kim & Ryan Baker, Garrett Poblick, and Anna Smith; the Sumner County Sheriff's office for providing Sober Ride; and our event volunteers.  Also thank you to our previously named sponsors and additional event sponsors, Patron Sponsors, Forward Sumner and Norman & April Rubio plus Year-Round Sponsor, Publix.  Finally, a giant thank you to our amazing Gala Committee who planned and organized this event in conjunction with our staff:  Anna Cook, Kelley Crecelius, Susan Gaimari, Kendall Hall, Courtney Moseley, Kelly Poblick-Su, Amy Ramsey, Amy Ray, Amy Scott, and Susannah Wood.
Overall, the event netted over $63,000 for United Way of Sumner County, a $9,000 increase over last year's event!  We couldn't be more grateful for all who volunteered, donated, sponsored, participated, and attended!  Thank you for making it a record year!
Click here to see our 2023 Gala in the Vineyard Event Photo Album on Facebook.