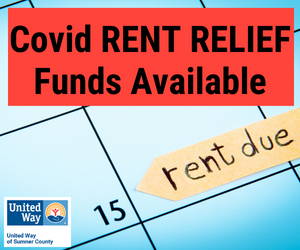 Although Tennessee has access to around $600 million in Covid rental relief funds to use for tenants, so far, only about $50M has been used, leaving plenty of funds available for those still in need.  For Sumner County, these funds are available through the Tennessee Housing Development Agency (THDA). The funds are available to help tenants pay for rental arrearages dated back to March 2020, plus future rents in 3-month intervals that will continue as long as the money is still available. Tenants are limited to 18 months' worth of total assistance. 
Tenants may apply with or without landlord participation.  Funds awarded to tenant applicants will be paid to tenants so they can pay their landlord.  Landlords are also eligible to apply.  Funds awarded to landlord applicants will be paid directly to landlords.
Money may be used for rent arrearages, future rent, and utility arrearages.  Funding may also be available for tenants who are not behind on rent, or for moving costs, security deposits, application fees, internet services, and some hotel stays.
United Way Agency, Legal Aid Society of Middle Tennessee, can help with the paperwork needed to apply for these funds and may be able to help expedite payments.  In Sumner County, call 615-451-1880 or 800-238-1443.
Links for more information:
Covid-19 Rental Relief flyer ( English) 
Covid-19 Rental Relief flyer (Spanish) (Programa de Ayuda con el Alguiler Debido al Covid en espanol)
COVID Relief Application Portal