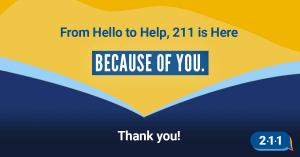 In a crisis, in a disaster, in a pandemic, 211 is here to help every person in our community get connected to available resources for finding food, paying housing bills and connecting to other essential services. In 2021, the 211 network fielded over 20 million requests in the U.S. and Canada.   Locally, more than 2,000 calls came from Sumner County residents last year.
Every day, clients contact 211 to access free and confidential crisis and emergency counseling, disaster assistance, food, health care and insurance assistance, stable housing and utilities payments assistance, employment services, veteran services and childcare and family services.
211 is powered by real people — trained specialists who work to identify and address the root causes of a client's problem. That means from the first hello, someone in crisis is reaching a real person who can provide a connection to help. These call specialists are essential workers: through the pandemic, they have shown up every day, fielded more requests than ever and helped people navigate the various health, education and economic impacts of COVID-19.
The economic fallout from the pandemic continues to hit low-wage Americans the hardest, along with people of color and those without a college degree. One in 4 adults has had trouble paying bills, especially rent or mortgage payments. One in 6 have borrowed money from friends or gotten food from a food bank. Half the adults who lost a job due to COVID-19 are still unemployed.  And according to a recent survey by the Census Bureau, over 19 million adults in the U.S. reported that their households sometimes or often didn't have enough to eat in the past seven days.  211 is still fielding more than double its normal calls, mostly for help with housing, bills and food. 
Here in Sumner County, 40% of last year's calls were for housing, shelter, or rental assistance.  13% of calls were for help with utilities.  10% of calls were due to food insecurity with almost half of those callers asking where to find local food pantries.
By supporting United Way of Sumner County, you help us provide these critical 211 services that connect struggling families with essential services and resources in times of crisis.  The service is free, confidential, and accessible 24/7/365. It's also available in more than 180 languages.
We are thankful for our amazing and dedicated 211 specialists and for the support from our community which makes this service possible!  If you or someone you know needs help, you can reach 211 in a variety of ways:
Dial 2-1-1 on your phone to speak with a Community Resource Specialist.
If you are having trouble connecting by dialing 2-1-1, call (615) 279-1410 or 1-(800) 318-9335.
Text your Zip Code to 898-211 to start a Text Chat.
Visit tn211.myresourcedirectory.com  to search by category of service/ need, county, or zip code. 
You can also choose "click here to chat" on tn211.myresourcedirectory.com to open a live chat dialogue.