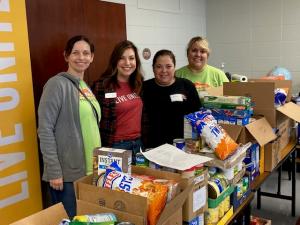 United Way of Sumner County held our first ever "United We Feed" food drive last month and collected more than 3,000 canned goods and non-perishable food items valued at more than $3,600!  Ten United Way agencies who feed hungry neighbors benefitted from the donations including Children Are People, Community Childcare, Cumberland Crisis Pregnancy Center, Gallatin CARES, Gallatin Daycare, Gallatin Senior Center, Gallatin Shalom Zone, Grace Place, Salvus Center, and Westmoreland Amazing Grace Mission. 
We were deeply moved to see so many local business partners join with us to make this drive a success.  Thirteen area companies provided nineteen public drop-off donation sites including Chandler Park Apartments, Compass Pediatrics, First Horizon Bank (2 locations), Gallatin Chamber of Commerce, Gallatin Civic Center, Gallatin Fire Department, Hendersonville City Hall, Huntington Learning Center, Portland Chamber of Commerce, Sumner Bank & Trust (3 locations), Sumner County Family YMCA, The Farmer's Bank (4 locations), and White House Chamber of Commerce.  In addition, Gap Inc., ITW StampTech Fasteners, ProAmpac, and TVA Gallatin Fossil Plant did internal collection campaigns to collect food for the drive and Servpro sent a group of volunteers to help on Distribution Day.
Thank you to all the companies that participated; to all who donated food at a drop-off location or by purchases through our Amazon Charity List; to those who donated money to purchase food supplies; and to those who volunteered to pick-up, drop-off, sort, pack, and load food.  Thank you also to Gallatin Shalom Zone for serving as the Distribution Day location.
Click here to see our full event photo album on Facebook.