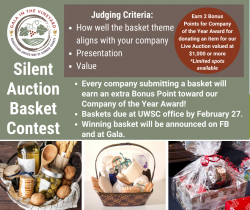 United Way of Sumner County is holding a Silent Auction Basket Contest for the 2023 Gala in the Vineyard asking companies to donate a Silent Auction Basket with a value of at least $25.  Baskets will be judged on how well their theme coordinates with your company.  i.e. a Realtor might create a basket of home decor items and/or gift certificates for home services; an automotive company might donate a basket with car accessories and gift certificates for car washes or car services; a medical company might put together a spa basket with items to pamper and gift certificates for spa services; a food services company might donate a basket with cooking items and certificates for cooking classes or restaurants; etc.
Baskets will also be judged on presentation, so put them in a nice container and make them look pretty and appealing to bidders, complete with cellophane wrap and bow!  Entries should include a list of all items contained in the basket and the total estimated value of the basket.  
Every entry will receive a Bonus Point towards our Company of the Year Award! 
Winning entry will be announced on social media and at the Gala event.
Companies can earn 2 extra Bonus Points toward our Company of the Year Award if they donate a *Live Auction Item valued at $1,000 or more.  Live Auction items can include things such as travel packages, sporting or cultural event tickets/packages, musical instruments, autographed memorabilia, unique experiences, etc.  *Limited spots available
Silent Auction Basket entries must be received at the United Way of Sumner County office at 1531 Hunt Club Blvd., Suite 110, Gallatin, TN by 4pm on February 27.  Please call ahead at 615-461-8371 to notify us when you will be delivering.  For more information, go to www.unitedwaysumner.org/gala or contact Toni@unitedwaysumner.org.