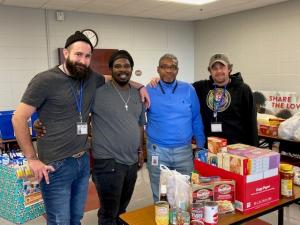 UWSC volunteers with Douglas Fuqua Sr. pictured in blue
Volunteers with United Way of Sumner County often serve at multiple events during the year. They have a heart for service that extends beyond their own particular interests. Douglas Fuqua Sr. is one of those incredible volunteers who gives his time to help on multiple occasions. Douglas, who has helped pick up donated coats for the Winter Care drive, was instrumental in the United Way Fall Classic Golf Scramble, where he helped set up, served as a Hole-in-One Watcher, and then stayed late to help United Way staffers clean up after the event. During the recent United We Feed canned food drive, he pick up donated food at several locations and then helped other volunteers unload the food from their cars at the sorting/packing location.
Douglas is the Site Director at Buffalo Valley, Inc. where he has worked for 19 years. He began as a case manager before transitioning to his current position. Douglas, who lives in Gallatin, began volunteering at United Way of Sumner County about a year ago. He also volunteers for other non-profit organizations, including Unlimited Potential and the NAACP and has volunteered with Mid-Cumberland and Gallatin CARES when needed.
"Since my wife has retired, she has been very active with United Way and a couple of other places," Douglas said. "Over the years, we have given time to helping others separately and together. United Way gives us a chance to support our neighbors."  Douglas is married to United Way board member Theresa Dowell-Fuqua. Thank you, Douglas, for all that you do to support United Way of Sumner County.