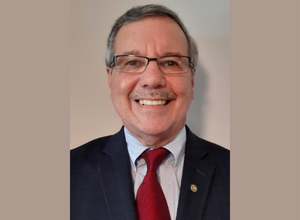 United Way of Sumner County operates under the leadership of a volunteer Board of Directors, but these servant leaders do more than attend board meetings. UWSC Board Member, Norman Rubio, has served this non-profit on many levels. Norman joined the board of directors in 2017, and in 2020, served as Board Chairman and as a member of the Executive Committee. He is currently the Chairman of the Executive Allocations Committee which carefully reviews local social service programs seeking grant funding for eligibility and weighs them against the mission/focus areas of United Way and the latest data on community needs.  He oversees the Allocation Panels to determine how best to allocate available resources from the community fund among the agencies requesting funding. "I have visited various (United Way) agencies we serve during allocation periods and have gained a great deal of respect for what our agencies achieve and do in Sumner County," said Norman.
Norman worked at Publix Supermarkets for 27 years, before retiring as a Publix Store Manager in 2019. "One of the bullet points of Publix Supermarkets is to 'Serve as Responsible Citizens in our Communities.' I am proud of the fact that my company supported me in my efforts to serve our Sumner County Community and United Way," Norman said. Part of that service included, volunteering with United Way's Stuff the Bus campaign and helping organize and prepare school supplies for Sumner County schools. He also helped collect toys for children during the Christmas holidays. Most recently, he helped pack canned goods during our United We Feed food drive. Norman can always be counted on to show up for every UWSC event, from the Winter Care Drive to the Gala in the Vineyard to the Golf Scramble (he usually rounds up a team of golfers) every year. When not volunteering for UWSC, Norman lends his time to the Hendersonville Morning Rotary Club.
"It has been a blessing to serve those in need in our county and see the positive impact our United Way of Sumner County has made on numerous citizens," Norman said. When he's not volunteering, he and his wife, April, spend time travelling and enjoying their grandchildren.